Bible Christianity
The Bible Christians trace their origins to William O'Bryan (1778-1868), a local preacher in the Wesleyan Methodist Church. Finding many of the villages of Devon and Cornwall in almost complete ignorance of the Gospel, he extended his own very successful evangelism beyond the limits of his own Circuit. In the conflict with the local Wesleyan authorities which ensued, O'Bryan, not without hesitation and regret, separated himself, and in 1815 he founded the first society of a new community at Shebbear in North Devon.
Although faced by much opposition and persecution, the new movement spread rapidly. At the end of the first year there were 567 members, and after only five years of work in the West,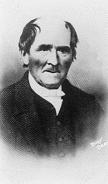 missionaries were sent to London, Kent and Sussex. The Bible Christians held the doctrines common to all the branches of Methodism, and placed the Bible very much at the centre of life and worship. One of their greatest pioneers was Billy Bray , tin miner and reformed drunkard, whose simple and no-nonsense application of biblical principles won him an enduring reputation.
An interesting point to note is that the Bible Christians admitted women to the Ministry equally with men. It took the Methodist Church a long time to get back to sound Bible Christian practice!