Since 1848, this little chapel has been serving the village of Pett and the surrounding area, providing a warm welcome to all who seek to know Jesus, and to do the will of God.

Over the years, it has seen many changes ... periods of great activity, periods when falling membership threatened its very future. But recent years have seen the spark of a revival. This little gem is once again beginning to sparkle.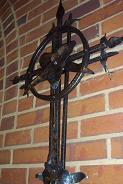 If you are a regular visitor to this website, be sure to check out the latest news and forthcoming dates. If, on the other hand, this is your first visit, please take your time. Explore every nook and cranny ... you may uncover a few surprises. And having done so, we very much hope that you'll be moved to pay us a visit in person.
May God bless you in your virtual pilgrimage, and may his presence be very real to you in your life's journey.
Mobile Post Office
Following the closure of the full time Post Office in Pett, we are pleased to host a twice-weekly mobile Post Office in the church hall on Monday and Thursday afternoons.