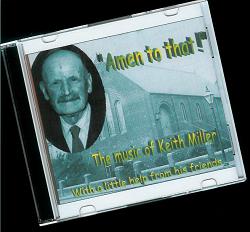 Finally, I've got around to recording some of the songs that I've written over the last few years. No doubt, Michael Ball and Jools Holland would have made a better job of it, but since they haven't offered yet, this is the best that I can do.

"Amen to that" is a collection of 6 songs and 1 poem, each track very different to the others, so hopefully you'll find something you like. Most reflect something of my Christian faith, albeit in a slightly "oddball" manner.
List of tracks
No Strangers Here - This song was inspired by a sign hanging outside the front door of a pub in Ireland. It said, in big bold letters "No Strangers Here", but then below, slightly smaller, "Just friends who never met". It struck me that this is just the sort of sign that ought to hang outside our churches, describing as it does the sort of welcome you should expect to find inside ... and if you don't, I suggest that you try the pub instead!

Amen To That! - My great grandfather, Aaron Barnes, was a local preacher in the Methodist Church for over 60 years. He died when I was about 7, so I never heard him preach, but I vividly remember how he used to sit in church, proclaiming "Amen" frequently and enthusiastically throughout the service. At the time, I (along with the rest of the Sunday School) thought he was absolutely "barking" (and, secretly, I think most of us were just a little scared of him), and it was several years before I came to realise that he knew exactly what he was about ... and he probably knew his bible better than most of the preachers. This song is the story of Great-Grandad Aaron, and contemplates the changing pattern of worship over the years.

Look For The Best - A simple little ditty with a serious message. If we could all make a habit of doing this one thing, wouldn't the world be a better place?

The Chase - This is what comes of too much involvement in panto! It started off as a simple piano piece to accompany a camel chase in a Christmas musical (what else?). Subsequently, I clearly had too much time on my hands, and it seemed like a good idea to add a few sound effects. Apart from helicopters, dogs, telephones and miscellaneous other noises, listen out for contributions from J.F. Kennedy, C.S. Lewis and Martin Luther King. Approximately two minutes of utter mayhem.

Lord Jesus, Think On Me - These lovely words were written by Synesius of Cyrene during the 5th Century, and translated in the 19th Century by A.W. Chatfield. In the year 2000, I decided that the tune in the hymn book just didn't do the words justice and I, somewhat arrogantly, decided that I could do better. I hope that Synesius would approve.

It'll Take A Little More Than That (To Really Worry Me) - I always wanted to write a good blues song, but it seems to me that, to write the blues well, you need to be really miserable ... and I can never stay miserable for long enough. I tried once, when I was feeling sorry for myself, and it worked! ... A chorus sort of fell out along with a tune, and the first verse ... in fact, it was going so well that I cheered up, and couldn't finish it. So I wrote this song instead. It sort of describes my general attitude to life.

Food For Thought - Finally, a poem that I wrote several years ago (and looking back, I don't know what planet I was on at the time!). Subtitled "The Life and Remeniscences of a Recently Departed and Much-Loved Brussel Sprout", it is quite touching ... in a bizarre way ... and has a serious message hidden away somewhere. If you know any psychiatrists, please don't let them hear it, or I must just get put away for my own good.
These CDs may be purchased at the ridiculously small price of £5 (plus postage), and all profits go to the Pett Chapel Refurbishment Fund. So even if you hate it, you'll get a warm glow inside just knowing that you've supported such a worthy cause.
If you would like to purchase a copy, please send me an e-mail with your name and address etc. Hopefully, we will soon make these tracks available for direct download in MP3 format ... when we work out how.
Keith Miller
Featuring, Wendy Hatch and Dawn Carn, vocals on No Strangers Here
Grace, Hebe & Alice Wilcock, vocals on Lord Jesus, Think On Me
Ken Hatch, guitar on tracks 1,2 and 6.