CONTACT

There are several ways that you can contact us.
By e-mail: Please click on the links as appropriate:

By telephone:
If you prefer a human voice on the other end of the line, you are welcome to use the "dog and bone" instead. Please remember though, even ministers are entitled to holidays or days off, so please be prepared to leave a message if necessary. We will respond as quickly as we can.
The Minister -
Rev Ian Pruden
01424 751304 - regarding any pastoral issues, weddings, baptisms etc., or if you just need to talk to someone.
Prayer Team - If you would like us to pray for you, or for someone or something that concerns you, the simplest way is to use the form on our
Request A Prayer
page.
Church Council Secretary - Betty Snow 01424 812694 - For anything to do with the business or administration of Pett Methodist Chapel, for information about stuff that is happening, or to share a notice that you think might be of interest to our members.
Webmaster
(I know it sounds pretentious, but it makes me feel important) - For anything to do with this website.
Become a
"Friend" of Pett Chapel
to get e-mail updates about forthcoming events, and special news bulletins.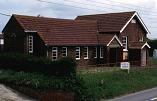 Better still, join us on any Sunday morning. We invariably serve tea and coffee after every service, and you'll find no shortage of people willing to have a chat.
In case you don't know where to find us, please click here for a
Google Map
. Alternatively, enter TN35 4HE into your SatNav (if you have enough faith), or follow your Ordnance Survey Map to grid reference TQ869139.