NEWS ARCHIVE - 2011
December 25 - A Christmas treat! We were delighted, as a part of our Christmas morning worship, to welcome no less than three new members into our midst. David and Carol Shortman, and daughter Amy, have been known to us for some time, having all been actively involved in other local churches. However, now living in the village, they have decided that they feel most at home with us at the Chapel ... and jolly welcome they are too!
June 18-19.
A special exhibition of Art and Flowers was held under the title of "The Beauty Of Life" to celebrate our 163rd Church Anniversary. A stunning collection of artworks were assembled, all created by members and friends of Pett Chapel, and including some exhibits by younger members of our CreArt group.

Our special guest for the weekend was Sarah Middleton, who gave an illustrated talk about the Methodist Collection of Modern Art, of which she is a trustee.
Sarah returned on Sunday morning to lead our worship, which took place in a chapel surrounded by reminders of the beauty of God's creation.
Over the weekend many visitors called in to enjoy both the exhibition and a sumptuous banquet provided by Betty and her hard-working team.

May 22 - Rye Churches Together undertook a rare excursion to the western extremity of their patch for an evening service at Pett. A sizeable congregation listened intently to Malcolm's interesting address about John Wesley (the visit coincided with Aldersgate Sunday), sang heartily, and then enjoyed refreshments in the hall. The outing marked the 70th birthday of Richard (secretary of Churches Together) and a long overdue return visit by Alan, who had attended Pett Chapel as far back as the 1960s. He observed that much had changed since his last visit.
April 22-24. Our Good Friday service included the now familiar walk of witness as the service was split into two parts, beginning at the Parish Church and finishing in our Chapel. A rough cross was carried between the two buildings, and we noted an unusual degree of courtesy as cars slowed while passing, and stopped to allow the procession to cross the road.
Easter Sunday began with a party as the Sunday Club engaged in some fun activities. The lively service concluded with the serving of hot-cross buns, prepared and brightly decorated by the children.
April 10 - We were delighted to host a special Service of Thanksgiving for Chloe Miller, first daughter of Barry and Charlie, and first grandchild of Keith and Glynis. The service was well attended by family and friends, and was followed by a family get together at Long Walk Cottage where the lovely weather ensured that the new decking was well used.
March 13 - We were delighted to welcome Sue Larrson into membership. Having attended regularly for a little while now, Sue obviously figured that she liked us sufficiently to join us, and she makes a most welcome addition.
Sue has volunteered (I mean "proper" volunteered, not the usual arm twisting sort) to take on the role of correspondent for the local village news magazine. With luck, she might even agree to write for this page ... which might mean it will be kept up to date.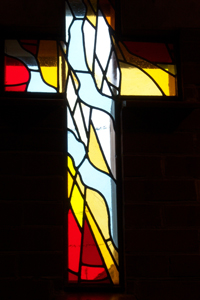 January 9 - Our annual Covenant Service included the dedication of the lovely new window made for us by Alice Wilcock. The window was installed in December and unveiled as a special treat on Christmas Day, but this was the first opportunity to conduct the formal dedication, being Malcolm's first preaching appointment at Pett since the installation.
Alice was able to join us for the service, but showed typical modesty regarding her work of art. Not that any speech was either requested or necessary ... the window pretty much speaks for itself.