NEWS 2014

Sept 28 - The church was beautifully decorated for our Harvest Service, led for us by Rev Robin Roberts. Members were encouraged to bring along gifts of non-perishable food, which were subsequently taken for donation to our local Foodbank project. Thus an age-old tradition was observed, whilst providing real and much needed support to people living in poverty right now.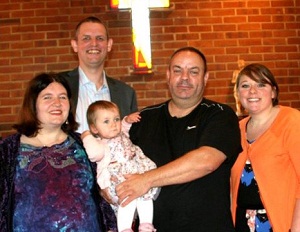 Sept 14 - The church was packed with friends and family of Andy and Amy Godfrey, for the baptism of Charlotte. Amy sung a lovely solo, accompanied by Andy on guitar, and Charlotte proved that she has a fiine pair of lungs, objecting loudly to Ian's water torture.
Aug 31 - More food, this time a BBQ kindly manned by Peter. A hearty meal was followed by wonderfully laid-back worship led by an "unplugged" version of our worship group, Fishy.
Aug 24 - A very civilised Afternoon Tea, largely organized by Sue with a bit of help from her friends ... and from husband Steve, who manfully carried garden furniture from their home (thankfully only a few doors up the road) so that pluckier visitors could enjoy the refreshments al-fresco.
June 8 - A memorable service in which we welcomed no less than three new members into our church family.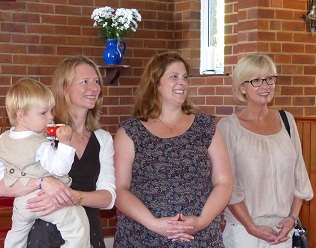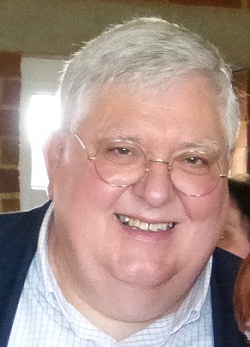 Lucy Hogg (centre) was baptized before she and Alison Howard (left) were both confirmed. Laura Busby was formally welcomed by transfer from her previous church. Altogether they make a very welcome addition to our membership, which now numbers 21.

In addition, David Shortman was accredited as a Worship Leader, following the completion of his training course.
March 22 - A Circuit Quiet Day was led at Pett by Rev Ian Pruden. Focussing on a selection of Psalms (some better known than others), Ian helped us to see what a rich resource they can be in our daily lives, for encouragement, comfort and guidance. Attendees were invited, during the quiet times, to write a psalm of their own.
March 9 - Wendy Hatch led a very successful All Age Worship Workshop on this Sunday afternoon. The Workshop was attended by a number of friends, including local preachers, from around the Circuit. The event concluded with a lively time of worship led by our worship band, Fishy.
March 1 - A working party / Spring cleaning day was well supported by members, who completed a number of useful tasks in and around the building. Among the most noticeable results are the lovely bright new blinds at the windows in the Church Hall. Thanks everyone.
January - We are grateful to local roofing legend, John Dye, for fixing our roof which suffered a degree of damage during the Christmas / New Year storms. We are now weather-tight again.
January 8 - We were pleased to welcome Judah Armani of Christian Aid, paying a visit to acknowledge the work of, and encourage the supporters of Christian Aid in the village.