NEWS 2014-15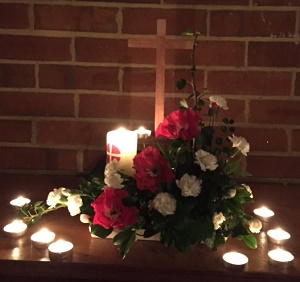 Ian Pruden led a beautiful service for Remembrance Day with music and prayers in Taize style. Sensitive use of subdued lighting and candles created a very peaceful atmosphere which was enjoyed by a number of visitors and regular members.
November 3 - This year's Autumn Church Council meeting saw a major re-shuffle of roles and responsibilities, resulting from the impending move of Betty and Derek Snow. Amy Shortman took on the role of Church Council Secretary, which Betty has filled for several years, while Keith Miller stepped aside from his role as Senior Steward to take over from Derek as Church Treasurer. David Shortman becomes Senior Steward while Ken Hatch comes back on to the team of Stewards to replace Sue Larsson. Meanwhile Wendy Hatch takes over the position of Property Steward. At this stage, we are still short of one Church Steward, a situation which we hope to remedy shortly.
Sadly, the excitement of a big move has been marred by Derek's unfortunately timed admission to hospital, and we wish him a speedy recovery so that they can both enjoy their new home close to their daughter and her family.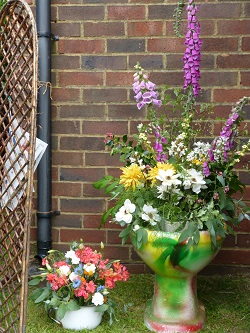 June 20-21. The church and hall were a blaze of colour when Wendy and her team of helpers created another stunning Arts and Flowers Exhibition to coincide with the 167th Anniversary of the Chapel. The theme of "Up The Garden Path" was interpreted in a variety of ways through flowere diasplays, paintings, photographs and other art forms.
Among the more whacky entries was "The Privvy", ideal for those who enjoy making an exhibition of themselves.
We had two very special visitors at our service on March 29. Local farmer, Tim Jury, brought two new born lambs for the children to see. They stayed throughout the service, and were content to sleep for most of the time, although towards the end of the service they took centre stage. With a double baptism coming up in just two weeks' time, it was useful practice for Ian to have to hold something small and wriggly.
Pett Chapel hosts mobile Post Office
Now Open!

Following the closure of Pett Post Office in December 2014, Pett Parish Council and the Post Office Limted have accepted an offer from Pett Methodist Church to host a mobile service in the Church Hall.

The new service opened to the public for the first time on Monday 23rd March, and it will operate every Monday and Thursday (excluding Bank Holidays) from 12 noon to 3pm.

It should be emphasised that the Church and its members are not responsible for the running of the service, which is operated by an experienced Postmaster from Lydd. Nor will the Church receive any rental payment for the use of the hall. Having said this, we are very pleased to be able to welcome visitors onto the premises, and will do our best to offer support where we can. Anyone wishing to discuss any aspect of the service should contact the Post Office directly using the customer helpline number, 08457 223344.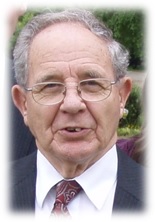 On December 23, Ralph Hatch was laid to rest in the chapel grounds alongside his beloved Ursula. The chapel was packed for a short Burial Service, which was followed by a Service of Thanksgiving at Calvert Methodist Church, where Ralph had served as organist for many years.
December was a busy month (as always) and we started on the 7th with a beautiful candlelit service in the Taize style. Many friends from around the Circuit joined us.
On the 13th our Worship Leaders, jointly with those from other churches in the Circuit, led a lovely Advent celebration at the historic Wesley Chapel in Winchelsea.
On the following Saturday, our (now traditional) Carols In The Barn event at Pickham Farm was attended by a record crowd.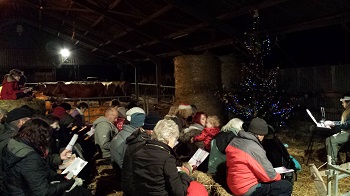 Only by sitting very closely together (which isn't a bad idea anyway) did we avoid running our of hay bales. As always, our hosts, Tim and Anne Jury, furnished us with an ample supply of mulled wine and mince pies, and donations were received for the charity Farm Africa.
Following a lively Christmas Eve Christingle Service at the Parish Church, Wendy led our Christmas Morning Worship ... and then we all went home for a rest!

Sept 28 - The church was beautifully decorated for our Harvest Service, led for us by Rev Robin Roberts. Members were encouraged to bring along gifts of non-perishable food, which were subsequently taken for donation to our local Foodbank project. Thus an age-old tradition was observed, whilst providing real and much needed support to people living in poverty right now.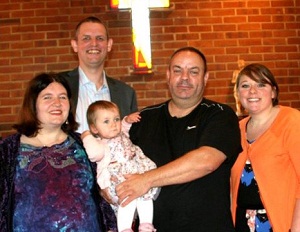 Sept 14 - The church was packed with friends and family of Andy and Amy Godfrey, for the baptism of Charlotte. Amy sung a lovely solo, accompanied by Andy on guitar, and Charlotte proved that she has a fiine pair of lungs, objecting loudly to Ian's water torture.
Aug 31 - More food, this time a BBQ kindly manned by Peter. A hearty meal was followed by wonderfully laid-back worship led by an "unplugged" version of our worship group, Fishy.
Aug 24 - A very civilised Afternoon Tea, largely organized by Sue with a bit of help from her friends ... and from husband Steve, who manfully carried garden furniture from their home (thankfully only a few doors up the road) so that pluckier visitors could enjoy the refreshments al-fresco.
June 8 - A memorable service in which we welcomed no less than three new members into our church family.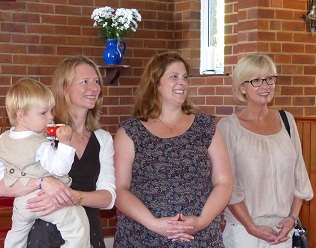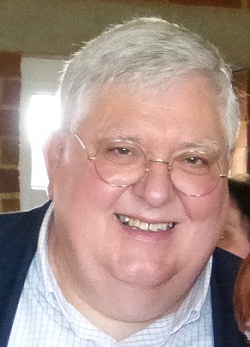 Lucy Hogg (centre) was baptized before she and Alison Howard (left) were both confirmed. Laura Busby was formally welcomed by transfer from her previous church. Altogether they make a very welcome addition to our membership, which now numbers 21.

In addition, David Shortman was accredited as a Worship Leader, following the completion of his training course.
March 22 - A Circuit Quiet Day was led at Pett by Rev Ian Pruden. Focussing on a selection of Psalms (some better known than others), Ian helped us to see what a rich resource they can be in our daily lives, for encouragement, comfort and guidance. Attendees were invited, during the quiet times, to write a psalm of their own.
March 9 - Wendy Hatch led a very successful All Age Worship Workshop on this Sunday afternoon. The Workshop was attended by a number of friends, including local preachers, from around the Circuit. The event concluded with a lively time of worship led by our worship band, Fishy.
March 1 - A working party / Spring cleaning day was well supported by members, who completed a number of useful tasks in and around the building. Among the most noticeable results are the lovely bright new blinds at the windows in the Church Hall. Thanks everyone.
January - We are grateful to local roofing legend, John Dye, for fixing our roof which suffered a degree of damage during the Christmas / New Year storms. We are now weather-tight again.
January 8 - We were pleased to welcome Judah Armani of Christian Aid, paying a visit to acknowledge the work of, and encourage the supporters of Christian Aid in the village.