>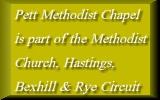 Third time lucky!



Twice postponed, due to the Coronavirus pandemic, we are delighted to confirm that Jonathan Veira will, at last, be coming to Pett Village Hall on Friday 22nd October.



I was asked how to describe Jonathan Veira, and the best that I could come up with was "Michael Ball with less hair." But that really doesn't do justice to the breadth of talent the JV displays. You could get a taste by going

online

but the only real way to appreciate the man is to see him for yourself.

If you can't get along to Fairlight Post Office, just drop an e-mail to familyhatch1@gmail.com or telephone 07908 377845.

Whatever you do, don't miss it.

Back at the chapel, we are now open for worship regularly on Sunday mornings. Some measures are still in place to minimise infection risks, and chairs are spaced a little more widely than previously, but please come along, and we will find room for you.

For those still unable to attend in person, many options for online worship remain available. The Vine at Home produce a weekly service to read at home or in small groups. It includes links to songs and readings, and is perfect for a short spiritual top up at any time of the week.

In addition, every Wednesday, at 8pm, we hold a meeting via

Zoom

, with a varied programme of worship, prayer and study (and always time to chat).

Finally, during the lockdown, Keith has been busy writing songs and re-visiting some old ones. At long last, some of his work is available for the world to view on Youtube. Songs are being added to the list frequently, and you can find the collection so far at The Music of Keith Miller




Post Office open

Despite the best efforts of Coronavirus, the twice-weekly Post Office service continues to operate in the church hall on Mondays and Thursdays between approximately 12.30 and 3pm.