>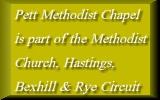 Following the Coronvirus outbreak, services at Pett Chapel remain suspended for the time being.

While we are unable to worship as we would wish, we have been using a number of ways to keep in touch with each other and to maintain the work of the church.

Every Wednesday, at 8pm, we hold a meeting via

Zoom

, with a varied programme of worship, prayer and study (and always time to chat).

On Sundays, at 10am, Pen Wilcock leads a weekly devotion via Facebook under the name of The Campfire Church.

Both of these meetings are by invitation to ensure that those taking part are able to share their thoughts and feelings within a safe environment. As Pen puts it, opening it up to the whole world would be rather like attending a housegroup and then finding your private conversations splashed all across the newspapers.

To join the Zoom group, just drop us an e-mail to ask for a link. For Facebook, when you land on the page you will need to send a request to join. New members are very welcome at both.

If you prefer to just listen or watch, I recommend The Vine at Home produced weekly by Twelve Baskets for use in church, at home or in small groups. Perfect for a short spiritual top up at any time of the week.

If you fancy using your time constructively to explore the Bible, maybe for the first time in any depth, the Bible Project offers an engaging introduction on Youtube. Each clip runs for around 6-8 minutes, and provides a very accessible overview of the whole story in around 100 bite-sized chunks. Used as a daily devotional, it would take you right through the Bible in about 3 months and, I suspect, leave you with an appetite to dive in more deeply.

Finally, during the lockdown, Keith has been busy writing songs and re-visiting some old ones. At long last, some of his work is available for the world to view on Youtube. So far, just a few songs have been uploaded, but it is Keith's aim to add to these over the coming weeks. You can find the collection so far at The Music of Keith Miller

And just a reminder, in case you missed it, that you can still view Carols In The Barn, which we recorded in December. Christmas, for most, might be a distant memory, but it's never too late for a bit of festive cheer. Just

click on the donkey

and enjoy.





Post Office open

Despite the best efforts of Coronavirus, the twice-weekly Post Office service continues to operate in the church hall on Mondays and Thursdays between approximately 12.30 and 3pm.