Since 1848, this little chapel has been serving the village of Pett and the surrounding area, providing a warm welcome to all who seek to know Jesus, and to do the will of God.

Over the years, it has seen many changes ... periods of great activity, periods when falling membership threatened its very future. But recent years have seen the spark of a revival. This little gem is once again beginning to sparkle.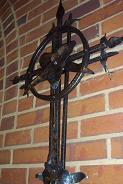 If you are a regular visitor to this website, be sure to check out the latest news and forthcoming dates. If, on the other hand, this is your first visit, please take your time. Explore every nook and cranny ... you may uncover a few surprises. And having done so, we very much hope that you'll be moved to pay us a visit in person.
Like many churches, the Covid pandemic has caused us to look again at the way that we do things, and in addition to our weekly services, every Wednesday, at 8pm, we hold a meeting via Zoom, with a varied programme of worship, prayer and study (and always time to chat).
We also provide resources to help individuals in their own devotions at home. You may wish to try The Vine at Home which is perfect for a short spiritual top up at any time of the week. Alternatively check The Songs of Keith Miller on Youtube to see what Keith has been up to recently.
May God bless you in your virtual pilgrimage, and may his presence be very real to you in your life's journey.
Mobile Post Office
Following the closure of the full time Post Office in Pett, we are pleased to host a twice-weekly mobile Post Office in the church hall on Monday and Thursday afternoons.