Even many "well-practised" Christians find prayer difficult, whether in the privacy of their own home, or (horror of horrors) when called upon to lead prayers in public.
Don't worry, this isn't something that we do to unsuspecting visitors.
There are, of course, many different ways to pray, just as there are many different ways to communicate with anyone. How you do it will depend on what you want to say, what situation you are in, how you are feeling ...
in fact, any number of different factors. The most important rule, I think, is "Be Yourself, and Be Honest".

Imagine you are speaking with your best friend. Your best friend will see through any pretence, will know if you are sincere, will probably know your worries before you say anything, and will always respond in love, seeking only what is best for you. Well, God is your very best friend ... only better! He is more faithful than anyone, and can do for you more than you could ever ask.
So treat him as a friend;
- Shout at him if you're upset (you can always apologise later)
- Laugh with him when you're happy (would you only speak to your best friend when you are miserable?)
- Seek his guidance when you are troubled, and be prepared to listen, and if necessary wait, for an answer.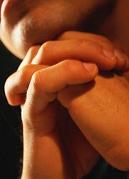 And remember - the answer to prayer isn't always about changing the situation ... you might find that it actually changes you.
In case you still need help, we have put together some resources to get you started. Please click on the links to the left, and
my prayer
is that you will find something here that will bless you.