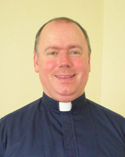 Dear Friends
I am sorry that my letter for July never appeared. I don't know where July has gone. It's been a crazy few weeks. Some of you have commented you don't see me very much. I am sorry about that, for various reasons the other two sections, in the absence of their minister, needed my attention. Sometimes the pull between being Superintendent and minister of the local church is a difficult one. Anyway, I will try and juggle my time better when I've returned from holiday. I don't want to keep being told you need me to sign your visitors' book when I appear!
It is good for all of us to have a period in the year when the rhythm of life slows down a bit. The last few weeks have seen people struggle to keep going with the amazingly hot weather we have had. Energy levels have been low. Other people have had brain ache coping with the onslaught of news that we have to get to grips with. I now don't understand what's happening with Brexit at all, and if we are stockpiling food and medicine in the event of a no deal, if no deal is better than a bad deal, what on earth is a bad deal like? Will we all change come March next year and enter a new world?
I am about to go on holiday. A week in Harpenden doing some work on my Mum's house, a few exciting trips to the tip as I get the courage to do under the stairs, then a week in Alnwick and Holy Island for some North Sea air. We all need to rest sometimes. Jesus did! He often took himself off before difficult stuff to a quiet place to pray. We need to take in in order to give out. His promise is "come to me all you who labour and have heavy burdens and I will give you rest." We have to have time to listen for him saying that promise to us, so this month, with less meetings and decisions to be made, take that time.
September will begin with a focus on prayer and listening with a Circuit prayer day. We will you be able to join us.
Have a good restful month,
With love,
Ian